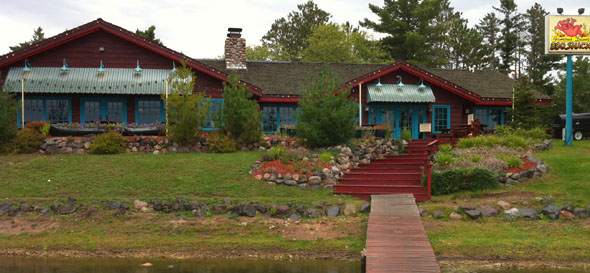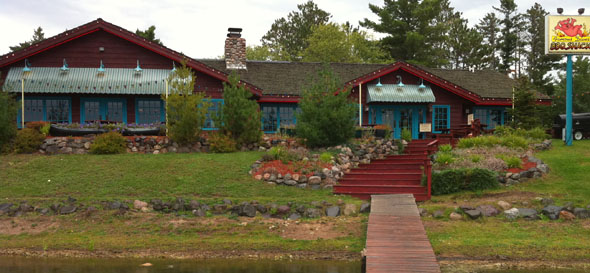 The family and I took a labor-day road trip to Hayward, WI. After a great time at the Fishing Hall of Fame, we decided to hit up the original location of Famous Dave's restaurant chain. For the non-BBQ fans out there, it's an award winning barbecue joint with dozens of locations across 36 states.
Besides all of us appreciating the great atmosphere, the scrumptious food and the beautiful location on Round Lake, my bro-in-law and me enjoyed one of the local brews on tap. (worth mentioning before continuing: they were served in generic mugs).
Since I'm a collector of beer glasses I was excited to remember the occasion by buying a Famous Dave's logoed beer mug. And I knew they once existed because my dad bought one from a previous Hayward trip a while back.
A Case Study in a Failed Merchandising Strategy
Having visited the gift shop, I looked through the custom tees, the logoed water bottles & coffee mugs, even a business success manual from the founder. But no bar gifts.
No beer mugs at a famous restaurant/bar's gift shop? Seriously?
So after finding out they didn't have any barware for sale I inquired into the matter. The response I received from both the gift shop lady and the bartender was, "too many people were stealing them."
What?
While I seriously doubt these workers' ridiculous reasoning for discontinuing their barware line. I responded by saying, "Your destination location with huge memorabilia appeal doesn't have logoed mugs anymore because of crappy security?"
And the fact that people were stealing the mugs, it shows the high demand for these glasses – I wonder if there would be a way to cash in on the demand? Hmm…?

The heart of the matter boils down to the fact that most businesses, like this one, miss out on the easiest money. All while busting their asses on low profit offerings.
For instance, their rack of ribs being sold at 20 bucks involves top shelf meat, multiple cooks and tons of other overhead & resources. But conversely, a deal such as "15 bucks for a beer, you keep the glass" costs no more than a bartender pouring tap beer into a couple dollar beer mug. Put in other words, giving customers the opportunity to pay $10 more for a beer in return for a keepsake mug, the bar would be looking at a huge profit margin.
Promotion
Now besides the clear fact that the place is losing out on easy money; the business is missing the bigger picture. Logoed items, such as barware, help build brand recognition. As well as giving the glass owner a conversation piece, turning them into a brand advocate.
I'd imagine a typical conversation with a guest when pouring a beer in a logoed glass would normally include a chat about the trip to the bar and how truly amazing the place is. Perfect situation for word of mouth marketing.
And since Famous Dave's has an amazing location and food, there is no doubt the place would receive constant positive referrals. But without any barware collectables to remind the visitors of the place, chances turn to slim of a referral. It's so obvious from an outside perspective, yet they clearly are missing the big picture of creating brand advocates through conversation pieces.
To Conclude
Don't get me wrong, I'm not hating on Famous Dave's. Everything about their place is great. But their marketing decision to discontinue barware is stupid. They lose both money and easy brand recognition.
The takeaway? Don't model your merchandising strategy after the original location of Famous Dave's.
What do you think? What would you do?