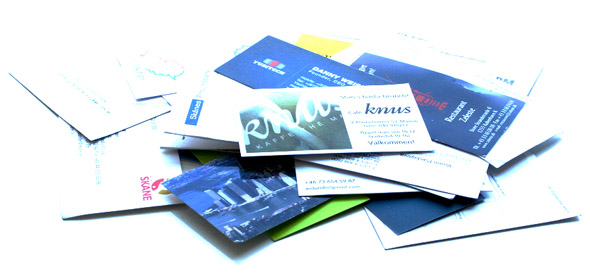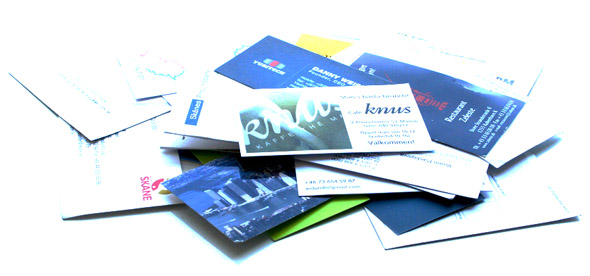 Expos, chamber gatherings and other networking events will certainly leave you with pockets full of business cards. And I am assuming you cherish the business cards from the important contacts you met. But what about all of the cards from folks you may never intend on speaking to again? (i.e. an unrelated industry worker) What should a smart networker do with these contact cards?
Most people fail to do anything with seemingly undesirable business cards. Some may throw them away. While most others probably toss them in a drawer, only to throw them away five years later. And so it seems that most people never recognize the golden opportunity presented with all business cards: building a network. Shocking revelation, huh? Since this was your original intention of going to the networking event anyway, might as well do it correctly. Here's my advice:

Google Their Name
You'd be amazed at what you can find by Googling a seemingly average person. If they have their stuff together, they may have a great online presence and impressive career track record. And will instantly become a higher-value contact. If the only thing listed for them is a second place softball tourney write-up five years ago, they may not be worth a whole lot of your time. But in either case continue onto the next step:
LinkedIn Search
The networking capabilities of LinkedIn are amazing. From validating someone's career path to keeping in contact with professional acquaintances, LinkedIn is the place. If you decide to add them as a connection, be sure to write a personalized message reminding them where you met and that you'd appreciate staying in touch. If you send the pre-written generic message, they may ignore your connection or worse, click "I don't know this person."
And if they don't show up in a Google or LinkedIn search? Well, use your best judgment of their value.
Email Them
If you are serious about connecting with them in the future, emailing within 24 hours is a must. It will set you apart from everyone else at the networking event, as I guarantee no one else does this – at least that quickly. This is where an email-capable phone takes an advantage. Shoot them a short, friendly email thanking them for talking with you. Also, ensure your contact info (and link to your website) is in your signature.
Do not automatically add them to any email list you may have! This happens to me all the time, I'll give out my card and two weeks later I receive their monthly newsletter. Hey man, I didn't sign up for this and I never gave you permission to spam me! GRRR!!!!
Put in other words, reach out with a friendly hello and leave the conversation open for follow-up talks. And don't spam them!
Digitally Archive Their Info
Finally, enter their information into your contact manager. This is vital. Before you can put the card to its final resting place, be sure to digitally archive their contact information. Also, include any notes of where you met them and what you talked about.
I personally use and recommend Highrise from 37 Signals. Salesforce's CRM is pretty nice too. Whatever contact manager you use, do not forget this step. It is much easier to do a quick search in the CRM for a contact, than digging in a drawer for the physical card.
Conclusion
If you take the time to complete the above tasks, you'll be amazed how quickly your network of contacts will grow. Good luck!